Zulfiqar
Ali
Memon
Bio:
Zulfiqar Ali Memon is Professor at the Computer Science Department of the National University of Computer and Emerging Sciences (NUCES-FAST), Karachi, Pakistan. Before this as an Associate Professor at Sukkur IBA University, Sukkur, Pakistan, he worked on building up a Cyber Physical System for Stroke Detection. He co-taught Behavioral and Organizational Dynamics to undergraduate students, as a visiting scholar at the Vrije University, Amsterdam (Behavioural Informatics Group).
Zulfiqar received his PhD in Artificial Intelligence from the Vrije University, Amsterdam, and his Masters with Distributed Systems (major) and Bachelor degree from University of Sindh, Jamshoro in Pakistan.
Zulfiqar is a trained cricketer. He has interest in poetry and deep motivational thoughts.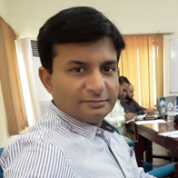 Research Interests:
Zulfiqar's doctoral research focused on to investigate how ambient agents can be equipped with knowledge about the dynamics of human functioning, and to explore the applicability of such ambient agents in a variety of application areas. He developed human-aware ambient agent models integrated with the ability to reason about the behavior of humans, involving cognitive, affective and interaction of both cognitive and affective aspects of human's functioning; those specifically include reasoning, emotion generation and reading, emotion contagion, believing, desiring, feeling, decision making, and attention. To bring this goal to realization, he argues that devices needs to be built possessing knowledge about humans, devices that are able to perform a more in-depth analysis of the human's functioning. For this, we need the assistance of human-directed disciplines such as cognitive science, psychology, neuroscience and biomedical sciences that develop models for many different aspects of human's functioning.
If such models of human processes are represented in a formal and computational format, and incorporated in these devices, then such devices can be made more user-friendly and more responsive to humans. The integration of these models within the AmI applications is becoming more widely known as human-aware ambient agent modeling. In his thesis, the aspect that has been taken as a point of departure to model ambient agents is mindreading or Theory of Mind (ToM): an ability to attribute mental states such as, beliefs, intentions, desires, pretending, knowledge, emotion etc to others and to understand that those states may be similar or different from one's own. Throughout his thesis, he developed models involving cognitive and affective aspects and the interaction between these two states of humans. These models have been integrated into ambient agent models in order to bring on human-awareness for AmI applications. He has especially engaged with the Situational Leadership Theory by Paul Hersey and Ken Blanchard.
Since his PhD, Zulfiqar is particularly interested in building up models and deploying them with software applications possessing ambient intelligence. He is interested in providing intelligence support to humans in handling:
He is also interested, particularly in Interoperability of Heterogeneous IoT Platforms.
Zulfiqar is also interested in enhancing the current softwares for e-learning by equipping them with the features of smart multi-agent based voice-enabled AI based virtual assistant.
Currently, Zulfiqar is developing a project on Blockchain based auditable framework for Inter-Country Trading.