William
Runyan
Bio:
William is currently a Ph.D. candidate in the Department of Comparative Literature at the University of Michigan. His chief interest and pursuit beyond the scope of his scholarship, and also in conjunction with it, is literary translation from Yiddish and Spanish to English.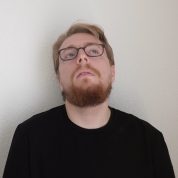 Research Interests:
William's research in comparative literature is broadly focused on the interplay of language, mobility and cultural form in literary cultures spanning Europe and the Americas, and finds orientation in current theoretical and methodological debates surrounding translation, multilingualism, transnationalism and world literature. While these categories have at times given way to overly sweeping if not totalizing conceptual frames, he looks to the model of recent work, more finely textured and historically oriented, on the cross-cultural emergence of particular genres (
McMurran
), the complex negotiations involved in the constitution, diffusion and transformation of "original" texts (
Mani
,
Emmerich
) and the distinctly modern notion of equivalence between languages (
Gramling
). William is also interested in a renewed attention to methodology in literary studies in conjunction with the pervasive "spatial turn," as some scholars look to move beyond imprecise spatial metaphors in favor of analytic frames drawn from literary formalism (
Hayot
) or elaborated in dialog with concepts from geography (
Tanoukhi
) and social theory (
Alworth
), for example.
While his research interests encompass modern Jewish, European and Latin American literatures and intellectual histories, his expertise and primary research focus is on the cross-regional and interlingual entanglements of Yiddish literature in the twentieth century. His dissertation, "Global Form and Fantasy in Yiddish Literary Culture: Visions from Mexico City, Buenos Aires and New York," examines the historical experience and conceptual development of this literature as it rapidly globalized in the first half of the twentieth century. Drawing on an extensive corpus of source material in Yiddish, Spanish and Russian—including literary texts, historic periodicals, archival sound recordings, personal correspondence and unpublished manuscripts—William shows how writers, print media and literary works came to navigate ever wider dimensions, and how this expansive scope in turn informed new discourses and practices of literature on a world scale.