Timothy
Kerswell
Bio:
Dr. Timothy Kerswell is the author of the forthcoming book Worker Cooperatives in India to be published by Palgrave MacMillan in 2018 along with numerous articles and book chapters. His research interests include the political economy of India and China, international class structure, imperialism, Indian politics and political history, informal labour in Asia, labour and migration policy, labour politics and trade unionism, and Marxist political thought. Dr. Kerswell has worked for the University of Macau at the Department of Government and Public Administration as an Assistant Professor for 5 years. He previously worked for the Australian Government's Department of Immigration and Citizenship on labour market policy, and for the trade union United Voice as a researcher. He holds a Ph.D. in Political Science and Political Economy from Queensland University of Technology (Australia), a Master of Arts in Political and International Studies from the University of New England (Australia) and a Bachelor of Social Science (Hons.) in Political Science and History from Queensland University of Technology (Australia).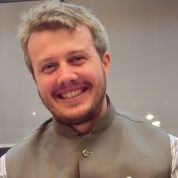 Research Interests:
A recent project Timothy completed was entitled Globalization, Labour and Migration in Asia. As part of this project he was able to study the political economy of India and China and the condition of their migrant workers resulting in some articles. He wrote a research article on the political economy of Pneumoconiosis in China's mining industry, and a comparative study on wage determination of migrant workers in India and China, both awaiting review.
Productivity and Wages - What Grows for Workers Without Power and Institutions
Capitalism Denied with Chinese Characteristics
In his second project, Timothy conducted a detailed study of informal sector industries in India, and the strategies, tactics and institutions developed by workers' organizations. His research in this area is designed to improve workers' welfare by equipping them with knowledge and resources that facilitate their struggles to improve their working conditions. Timothy extensively studied the political economy of India, and examined workers' institutions in various industrial settings gaining first-hand knowledge of them through detailed field studies published in The Journal of Labor and Society. A study of the Self-Employed Women's Association was published in Geoforum. The result of this project is the book Worker Cooperatievs in India forthcoming with Palgrave MacMillan.
Labour Imperialism in India – The Case of SEWA
India's Informal Sector – Demystifying a Problematic Concept
Informality in Automobile Value Chains in India
His current research agenda considers diverse political questions including:
The debate about India's mode of production: feudal or capitalist?
The Crisis of Left politics in India (and generally)
The generation of labour aristocracies in settler colonial and migrant receiving societies
The conceptual history of the labour aristocracy
The Maoist origins of identity politics
Frantz Fanon's theory of the peasant as the revolutionary subject