Sergey
Shityakov
Bio:
Dr. Sergey Shityakov is a Senior Researcher and the Head of Virtual Screen Lab at Würzburg University Hospital, Institute of Anesthesia and Critical Care, Würzburg University, Germany. Before that, he served as an Adjunct Professor in the Department of Human Morphology, Novgorod State University, Russia and as a Clinical Researcher in the Department of Pharmacy and Biomedicine, Mario Negri Institute for Pharmacological Research, Italy. Dr. Shityakov received his M.D. degree in internal medicine and neurology from the School of Medicine, Novgorod State University, Russia, and his Ph.D./D.Sc. degrees in biomedicine and neuroscience from Würzburg University, Germany. Dr. Shityakov is a very experienced neuroscientist and educator. He has published more than 50 original research papers in highest impact-factor journals, including Nature and Cerebral Cortex, in the fields of behavioral and cognitive neuroscience, artificial intelligence, and integrative bioinformatics and biomedicine.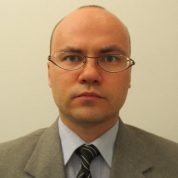 Research Interests:
Dr. Shityakov's research is mainly focused on various neurological and neuropathological aspects and phenomena, comprising the
development of central nervous system
, its morphology (
blood-brain barrier
), and psychophysiological and
behavioral conditions
in humans in health and disease. His work is also dedicated to the
mathematical modeling
and
simulations
of molecular mechanisms of brain functions, using
artificial intelligence
and machine learning algorithms. Some aspects of this work can be linked to the
brain/mind-machine interface
to investigate the influence of augmented virtual reality on the
impaired brain function
.
Dr. Shityakov is actively engaged in the development of novel approaches to be applied in social neuroscience and biomedicine. These techniques can provide a better understanding of the confluence of neural and social processes based on a variety of neurobiological techniques, including magnetic resonance imaging (MRI), positron emission tomography (PET), electroencephalography (EEG), single-cell recording, and studies of focal brain lesions (stroke and traumatic brain injury) in patients.
Additionally, Dr. Shitykov is also involved in the design and implementation of integrative algorithms that focus on "big data" optimization (genetic algorithms) and processing for biosocial sciences. These statistical approaches have used data mining to search for patterns of existing data. Some of his research articles in this field had focused on creating new and specific gene ontologies.
Dr. Shityakov is also interested in molecular anthropology as a field of anthropology in which molecular analysis is used to determine evolutionary links between ancient and modern human populations, as well as between contemporary species. Currently, Dr. Shityakov is working on various national and international projects in the fields of human population genetics and genomics, social neuroscience and psychophysiology to establish the relationship between mental (psyche) and physical (physiological) processes as the interaction between mind and body.