Sayan
Bhattacharyya
Bio:
Sayan Bhattacharyya earned his PhD in Comparative Literature from the University of Michigan, Ann Arbor, in 2010 and also has master's degrees in Computer Science and Engineering and in Information Science from the same university. He was a Council on Library and Information Resources (CLIR) Postdoctoral Fellow for three years at the University of Illinois, Urbana-Champaign, for three years, and he has been a Mellon Postdoctoral Fellow at the Price Lab for Digital Humanities, University of Pennsylvania, for the past year and half. He has published several book chapters as well as articles in international journals.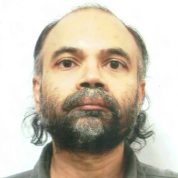 Research Interests:
Sayan's research focus is on postcolonial studies and on the emerging field of digital humanities. His PhD dissertation, on Rabindranath Tagore, a writer from India, and the Caribbean intellectual C.L.R. James, focused on the engagement of these thinkers with questions concerning the dialectic of universal and particular in the context of colony and nation. His subsequent work as a postdoctoral fellow has focused on both epistemological questions related to digital approaches in the humanities, especially in connection with postcolonial studies, and on empirical work in digital humanities. His most recent publication,
'Words in a World of Scaling-up: Epistemic Normativity and Text as Data'
, appeared in Sanglap: Journal of Literary and Cultural Inquiry.