Samiullah
Paracha
Bio:
Samiullah Paracha earned his PhD in Computer Science from David Goldman Informatics Centre, Faculty of Technology of the University of Sunderland in UK. At present, he is working as a researcher at the same university. He served, as a research consultant and research fellow, at the United Nations' think-tank called Institute on Computing & Society, United Nations University (UNU-CS) in Macau. Prior to joining United Nations, Samiullah worked, as an Assistant Professor, at Graduate School of Information Technology, Kobe Institute of Computing in Japan. He has amassed over 18 years of experience in teaching, research, programme management, capacity-building and policy development, whilst working with the IOs, NGOs, governments and eminent universities in Europe, Asia & Africa. His scholarly work, in peer-reviewed literature, include United Nations' policy reports, book chapters, journal articles and conference papers accompanied by Best Research Paper Awards (IEEE, IEEJ, IIER), Gold Medals (IIER), First Prize Paper Awards (IEEE) and Teacher Appreciation Awards (BoE) and a Letter of Appreciation from the Embassy of Afghanistan in Tokyo.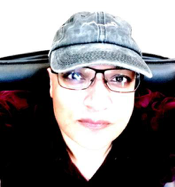 Research Interests:
Samiullah's research interest is in
Free Will & Consciousness
– the ongoing work at SAS, University of Tyumen. Contrary to intelligence or autonomy, Free Will has received little attention from the computer scientists. He was introduced to the notion of Free Will during his PhD work on creating a model of Autonomous Virtual Agents— an artificial intelligence domain. Despite his passion, Samiullah failed to understand it, mainly due to the confusing nature of the literature on Free Will at that time. Instead, he heavily relied on the emotional theories presented by
OCC
,
Scherer
and
Hall
to develop some kind of AI mechanisms in order to generate appropriate emotions that triggered adequate agent actions. Now, that he has stumbled upon the
SAS's Work on Free Will
, Samiullah cannot resist! He sincerely believes that joining Free Will Research Team at SAS, University of Tyumen will help him improve his understanding of Free Will from artificial intelligence perspectives.