Rossen
Roussev
Bio:
data-canvas-width="43.98529392215686">

Rossen Roussev obtained his PhD in philosophy from The New School for Social Research in New York (2005) under the supervision of prof. Agnes Heller. He also has an MA in Critical and Creative Thinking from the University of Massachusetts, Boston and a MA in Philosophy from Sofia University "St. Kliment Ohridski." Rossen has been an associate professor in contemporary philosophy at Veliko Tarnovo University "St. Cyril and St. Met hoius", Bulgaria, since 2011. He was also an associate professor of philosophy at the Kazakh-British Technical University, Almaty, Kazakhstan (2015-16) and an assistant professor of philosophy at Kyungpook National University, Daegu, S. Korea and at St. John's University, New York.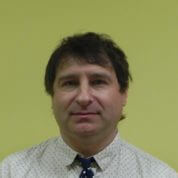 Research Interests:
data-canvas-width="314.5503719613726">
The central area of Rossen's research interests is the 

philosophy of the self

 with focus on Ethics, Socio-Political Philosophy, and 

Critical and Creative Thinking

. He pursues a holistic understanding of human subject, including as self-identical, rational, environmental, narrative, ethical, and political subject. He set his research in a 

genealogical

 fashion, drawing on the history of philosophy, contemporary interdisciplinary research, as well as on the philosophy of language, literature, art, and culture. Rossen's research in ethics includes work on 

Levinas

' philosophy of justice, 

Habermas' theory of communicative action

 and moral development, 

Rorty

's social ragmatism, Foucault's view on the relation of 

power and institutionalization

. His work in critical thinking traces its links with problem solving, creativity, ethical, institutional, and political thinking, as well as with the philosophical thinking in general and with professional thinking and applied ethics.
Rossen's research on both ethics and the art of thinking of the self conveys the sense that the self can neither confine its proper self-understanding to the pointers of certain essentialist conceptions, nor can it adequately determine itself drawingon limited sets of methods and principles of determinations. Instead, it n eeds to overcome any such determinations byunderstanding them as ultimately being transcendent to discourse and bound to practice and human responsibility. In a broader sense, he links the understanding of the human subject to the sum-total of its own cultural achievements, while the task of the philosophy of the self–to sorting out its essential aspects, by constantly revisiting and reinventing these achievements. This website contains links that might be useful for non-specialis ts to get info on these areas.