Marko
Stamenkovic
Bio:
Marko Stamenkovic is an art historian and transcultural theorist with a strong interest in the decolonial politics of race, ethnicity, and sexuality. Over the last decade, he has been working primarily in the field of contemporary visual arts as a freelance curator, critic, and writer focused on the intersection of visual thinking with social theories, political philosophies, and cultural practices of the marginalised and the oppressed. He holds a PhD in Philosophy from Gent University (Belgium) where he worked on questions of sacrifice, self-sacrifice in protest, and suicide to explore the relationship between human mortality and politico-economic powers on the darker side of democracy. His dissertation (Suicide Cultures: Theories and Practices of Radical Withdrawal, defended in 2014) offered nonorthodox insights into thanatopolitical philosophy as a decolonial epistemic option from a perspective of the global South. His international guest-lectures include universities and art venues in Sofia, Tirana, Cetinje, Tallinn, Gent, Vienna, Gothenburg, Pretoria, Tehran, Istanbul, Mexico City, Oslo, Alger, Dublin, Brno, Yerevan, Recife, and Alexandria. They follow an engaging style that has more to do with the discussion-oriented format, incorporating context and quotidian case studies, rather than repetition and memorization of facts. His most recent exhibition projects include: Scanning Cinema (Croatia, 2018), Heidi's Delight (Belgium, 2017), To Die Out Laughing (Bulgaria, 2017), All Joy Wants Eternity (Albania, 2017), and Put Your Faith in Women (Austria, 2016). He is a member of AICA - The International Association of Art Critics and IKT - International Association of Curators of Contemporary Art.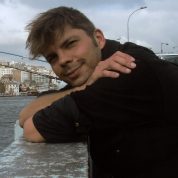 Research Interests:
The basics of Marko's academic research involve the relationship between human mortality and politico-economic powers (
link 1
) with a particular focus on contemporary philosophies of death and dying. (
link 2
) More specifically, he is engaged with transdisciplinary critical theories and methods that question how people's lives are exploited and instrumentalized by those who are in the sovereign position to govern (through genocides, homicides, and human sacrifices at large), but also by those who lack this power and opt for 'voluntary death' (through euthanasia, human bombing, and self-immolation by fire). (
link 3
) Marko's work is, however, less concerned with the ethics of suicide in medico-scientific terms; instead, it challenges those views to highlight what self-sacrifice and relationships entailed by it can disclose to the world of living in terms of geopolitics of knowledge (
link 4
) or what is otherwise underrepresented and kept below the radar of normative visuality by dominant (masculine, patriarchal, white-minded, Euro-centric, colonial, racist and sexist) epistemic powers. (
link 5
,
link 6
)
With a completed PhD in the humanities, Marko's research also relies upon social sciences and visual studies, showing a broad awareness of decolonial thought and indigenous cultural practices. What interests him the most, in this regard, is how visual data – within and outside of art history – relate to the production of different forms of knowledge (including histories of ethnic/racial/sexual minorities, often systematically excluded from public view) and how images can serve as tools for making intricate social and emotional structures visible and accessible to interpretation of human values, such as empathy and guilt. (link 7, link 8)
Following his 2017 exhibition project on humour and death (link 9), he is considering a new one, including a book, on protest-based self-sacrifice in Central Eastern Europe (1968 – 2017) and the crisis of democratic legitimacy in 'post-communism'.