Layla
AbdelRahim
Bio:
Layla AbdelRahim received her B.A. from Bryn Mawr College. Upon graduation, she won the Watson Fellowship to conduct an anthropological study in Europe. She spent a year at l'École des Hautes Études en Sciences Sociales in Paris before receiving her M.A. from Stockholm University. She received her Ph.D. from the University of Montreal. Her dissertation was published by Routledge in 2015. She is also the author of a book on the anthropology and philosophy of education, published by Fernwood in 2013. She has worked in refugee relief and journalism of war in North East Africa and currently teaches at the University of Quebec in Trois-Rivieres on a part-time basis.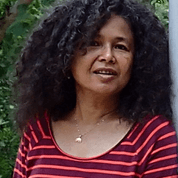 Research Interests:
Layla is interested in the underlying premises of civilisation and the principles of life in
wilderness
. These premises and principles inform specific
economic positions and social organisation
 that different groups adopt with direct repercussions for the environment. To understand the mechanisms that ensure the endurance of cultural choices, even when these choices are not viable, the researcher uses comparative and interdisciplinary research methods to examine the issuing material, social, and symbolic cultures and political and socio-economic paradigms. In other words, she works on a comprehensive approach to the
Anthropocene
 and its concomitant
Holocene Extinction
 from a
biocentric
 perspective to explain the ecological crisis and the eruption of violence around the world. Layla interest in the epistemic foundation of civilised society came from my work on nationalism, violence, and war and led her to explore the links between fictional and scientific stories of origins and anthropological and other narratives of predation as well as the mechanisms of reproduction of violence through education and other cultural encoding. This investigation resulted in two peer-reviewed books. Wild Children – Domesticated Dreams: Civilization and the Birth of Education (Fernwood 2013) is an obvious wink at Foucault and it explores the ways in which the underlying premises of predation imbue the
structure of pedagogy
. Children's Literature, Domestication, and Social Foundation: Narratives of Civilization and Wilderness (Routledge 2015) examines the impact on the environment that the civilised premises of the Anthropocene had through various mythological, religious, and scientific explanations about humanity and the world.
For more info on Layla's work see
here
.