Jacob
Lassin
Bio:
Jacob Lassin is a PhD Candidate in the Department of Slavic Languages and Literatures at Yale University. At Yale he has taught courses in literature and Russian language. From 2015-2016, Jacob was a participant in the Mellon Graduate Concentration in the Digital Humanities. Prior to beginning his graduate work, Jacob was a Boren Scholar in Ufa, Bashkortostan, Russia where he studied at Bashkir State Pedagogical University and also worked at a local television station. Jacob earned his B.A. in Government and Russian and Post-Soviet Studies from The College of William & Mary in 2013.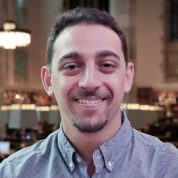 Research Interests:
Jacob is interested in studying technologies of truth and power. His research takes up a number of pressing questions. How do
beliefs develop and spread
in the contemporary moment? In what ways do different
media interact
and affect the reception and dissemination of ideas? How does
local cultural context
intersect with the
global reach
of digital technologies?
Jacob's doctoral dissertation, "Sacred Sites: The Russian Orthodox Church and the Literary Canon Online," analyzes and contextualizes websites run by the Russian Orthodox Church and associated groups. He contends that discussions of classical Russian literature are central to these online projects, which aim to produce and bring together an educated, religious and patriotic middle class. Based on careful analysis of online material and many hours of interviews with editors, writers, and readers, Jacob argues that Russian Orthodox online discourse on literature, reading, and national identity is part of an effort to create an imagined community of Russian readers in the twenty-first century. He investigates online discussions of the classics of Russian literature to identify echoes of imperial nostalgia as well as the recuperation of Soviet-era literature in contemporary imaginaries of the Church, state, and civil society.
Jacob's work demonstrates that "canon wars," conflicts over cultural politics that were prominent in the West in the 1980s and 1990s, continue to this day as part of a global process. He is also interested in the ways that discourses of traditional values circulate around the globe and in how digital media facilitate that circulation. In addition to his dissertation work, Jacob has written about other ways that the Internet has been used to promote identity formation in post-Soviet spaces. His article in Digital Icons explores the online community OurBaku.com, a virtual recreation designed by former residents of the city of Baku.