Irina
Antoshchuk
Bio:
Irina Antoshchuk is currently a PhD candidate in Cultural Sociology at the Amsterdam Institute for Social Science Research at the University of Amsterdam, studying diaspora knowledge networks of Russian computer scientists in the UK. Before joining UvA she completed PhD programme in Sociology at European University at St Petersburg. She got a specialist diploma in Social Work and then her Master's degree from Saint-Petersburg State University, graduating from multidisciplinary programme "Studies in European Societies". Irina has a diverse research experience: she explored various topics, ranging from protest activities of factory workers in Russia to serious leisure of young people in big European cities, implemented different methodologies and conducting investigations across various national contexts (Russia, UK, Germany). Having started her career as an industrial sociologist at "Veda-Pak" plant, Irina continued as a junior researcher at Sociological Institute of the Russian Academy of Sciences and worked as a research assistant in STS Center, European University at Saint Petersburg, being involved in mega-grant project "Russian computer scientists at home and abroad". Recently she finished RFBR grant project on migration of young scholars from Russia, working in Russian Presidential Academy of National Economy and Public Administration. Irina's professional experience also includes fundraising, when Irina was a member of sponsor relations team at British charity organization "EveryChild", and marketing, when Irina worked as a manager in international education organization "INTO University Partnerships".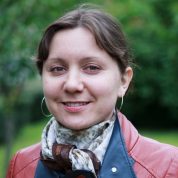 Research Interests:
Irina's doctoral project focuses on Russian-speaking computer scientists (RCS) who migrated from Post-Soviet states after 1991 and live(d) in the United Kingdom, holding teaching and research positions. Exploring their diaspora knowledge networks (DKN), Irina aims at deepening knowledge on the effects and consequences of academic mobility for scientific communities. RCS mobilize diasporic ties to overcome high entry barriers and difficulties of adjustment in the UK. As a result, DKN are formed, functioning as ethnic networks, reducing the costs and risks of cross-border movement, and collaboration networks, impacting knowledge generation activities. Irina's project embodies several of her research interests. First, she is interested in the intersection between diasporic and professional (
Saxenian 1999
, 
Xiang 2007
). Viewing diasporic identity as a "category of practice" (
Brubaker 2005
) and "effect of (inter)actions" (
Byford 2009
), Irina explores how cultural and professional identities are co-produced in RCS scientific collaborations. Second, Irina is interested in gender inequality in academia and technical disciplines. She questions whether diasporic affinity mitigates gender disparities in computer science as a discipline where masculine culture dominates (
Ensmenger 2012
). Building on concepts of "male homosocial desire" (
Fisher, Kinsey 2014
) and "mobilizing masculinities" (
Van den Brink, Benschop 2014
), Irina identifies gendered patterns of cooperation enabling and sustaining male bonding while driving women out or channelling them into subordinate positions. Third, Irina is concerned with diasporic affinity as a form of social proximity facilitating knowledge networks creation. She examines how cultural belonging encourages "cooperative labor of human brains" (
Moulier-Boutang 2011: 57
) and knowledge production, becoming a valuable resource in networked information economy (
Benkler 2006
). Irina is also interested in spatiality of migrant and scientific networks, technological mediation of migration and mobility, (re)making and (re)imagining of spaces through mobility.