Dmitry
Bayduzh
Bio:
Dmitry Bayduzh graduated from Institute of History and Political Sciences of the University of Tyumen (2003) and obtained his PhD (2007) at the same university with the dissertation devoted to self-representation of the Teutonic Order at the end of the 12th – the beginning of the 14th centuries. His advanced training was at the Numismatic department of the State Hermitage in St. Petersburg (2004), the Institute of World History of Russian Academy of Sciences (2005, 2010), universities of Warsaw, Toruń (2006, 2008) and Berlin (2014-2015). Since 2003 he works at the University of Tyumen, since 2014 – as an associate professor of medieval history.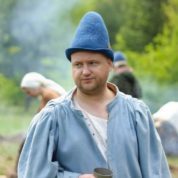 Research Interests:
rong>
Dmitry's scientific interest areas are constructing and transformation of identities and models of self-representation in the Middle Ages, as well as visual signs systems which were their carriers. Based on the history and culture of the Teutonic order (Deutscher Orden) he studies strategies of self-expression  based on various artefacts: heraldry, seals, coins, memorial effigies and brasses, etc. The most informative source is the seals of Order's officials which express gender, confessional, social and other identities. These artefacts allow defining and deciding a wide range of fundamental historical, cultural and methodological problems: interaction of the individual and group (corporation), norms and practice, mentalities and ideologies, private and official spheres, identity and power; they also shed light on texts and images, various visual practices and ways of communication.
Dmitry's research has cross-disciplinary character, situated on the intersection of history, art, anthropology, and sociology. Its methodological basis is constituted, first, by semiotics anthropology of Brigitte Bedos-Rezak, which provided an identification of the person and the signs representing her in medieval culture. An important role is played by an understanding of images not as objects of an esthetics (art) but performers of various social functions (Hans Belting), the theory of interpretation of single (Erwin Panofsky's iconology) and serial images (Jérôme Baschet). Susan Crane's theory of a ritual and performance allows considering them as self-making practices, but not simple reflection of identity.