Cristian
Cercel
Bio:
Cristian Cercel is a postdoctoral researcher with the Institute for Social Movements at Ruhr University Bochum. Originally from Romania, Cristian has a BA in European Studies (University of Bucharest), an MA in Nationalism Studies (Central European University, Budapest) and, since September 2012, a PhD in International Affairs (Durham University). He previously held postdoctoral fellowships at New Europe College (Bucharest), Swansea University, and the Centre for Advanced Study (Sofia). He is list editor and review editor of H-Nationalism. He is also active as a translator from German, Italian, and English into Romanian.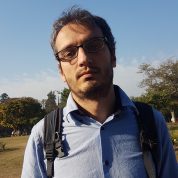 Research Interests:
The
research project
Cristian is currently involved in looks at the representations of the two world wars in European museums. The case study he has been focusing on is that of the
Military History Museum
in Dresden: an article looking in depth at the concept underlying the 2011 reopening of the museum and at the exhibition as such will appear in the next issue of History and Memory. On a conceptual level, the project aims to further develop and refine the concept of
"agonistic memory"
, meant to move beyond both the current hegemonic victimhood-centred cosmopolitan memory regime and the populist right-wing nationalism attacking it. Agonistic memory aims to broaden the scope of public memory discourses, by bringing conflict and struggle back into the picture and by providing a framework for the expression of counter-hegemonies and of a radical democratic critique of current memory discourses and practices. In this context, Cristian is also participating in the organisation of an exhibition on war, to be inaugurated at the Ruhr Museum Essen in November this year.
In his doctoral dissertation, he has critically looked at the
image of the German minority in post-1989 Romania
, arguing that Romanian philo-Germanism is best understood as an expression of self-orientalism and of a symbolic wish to belong to Europe. His book on the topic is due to appear this year. In his research on Romanian Germans, he also analysed
the turn towards the national
of Transylvanian Saxon identity between 1933 and 1945. Furthermore, also by using the Romanian German case, he argued in
a recent publication
that Brubaker's
analytic triangle
, a theoretical framework often used in nationalism studies, should be expanded into an analytic quadrilateral.