Lyubov
Bugaeva
Bio:
Lyubov Bugaeva is a researcher in cinema and literature, Drhab (2012) and PhD (1995), Associate Professor at St. Petersburg State University, Russia, a Fulbright scholar (2007-2008) and a Kone Foundation Fellow (2015). She taught at universities in Salzburg, Austria (2002-2007), SUNY Albany, USA (2007), Ras-al-Khaimah, UAE (spring 2013), Warsaw, Poland (fall 2013), and Helsinki, Finland (2015). She is the founder of the Kinotext Group in St. Petersburg, the author of Literature and rite de passage (St. Petersburg, 2010) and of more than 150 articles (in Russian and English).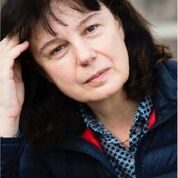 Research Interests:
The mind is fundamentally
embodied
. We move, we stop, we feel, we think, we perceive as "
creatures of the flesh
", being actively and bodily engaged with the environment. Whatever we do experientially, we also do emotionally. And we acquire our experience and share it – through acting and storytelling. A story can be told not only verbally but also through gesticulation, facial and body dynamics, movement, and dance.
As part of her research activity Lyubov would propose a complex, multi-disciplinary study of the cognitive basis of visual embodied narratives in various types of media, including cinema and enactive "body-based" interaction systems applied in participatory narrative media, as well as in an urban environment, which is defined and appropriated through "spatial practices" (e.g. walking in the city).
The relevant questions include: What triggers our emotional engagement with a story in various narrative media (cinema, games or drama therapy)? What does body language tell us and how does it involve us in what is going on in the world, fictional and real? Does the character of the communication change if participants are engaged in interaction with mediated fictional worlds and virtual characters?
Examining the connection of embodied narratives to real-life schemata and certain types of situations, and the universal and culturally specific features of narrative elements, would help to understand mechanisms of storytelling as well as mechanisms of emotions and culturally determined effects of audiovisual media. Narrative mapping could represent events that unfold over time.